About us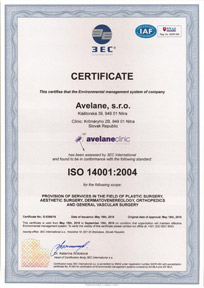 With a range of treatments to suit your needs, AVELANE clinic of cosmetic surgery can help you achieve the look you have always wanted. From your first visit to Aesthetic Plastic Surgery clinic, you will work directly with Consultant Plastic, Aesthetic and Reconstructive chirurgie specialist. Together, you will explore the possibilities and discuss the results that you can look forward to. The whole process including initial evaluation, surgery and post surgical care, will be all carefully explained. Should you choose to proceed with the surgery, it will be performed at one of the area's most respected hospitals, and every care will be taken to ensure your privacy and comfort.

Our private clinic was established in Nitra. We offer day surgery and special treatment packages for various health problems. Our main area of expertise is plastic surgery. In addition to surgical services we offer expert care for many medical conditions.

The clinic is conveniently situated in Nitra. Our clinic is an excellent place and is suitable for spending a holiday as well.
Naturally there will be many questions you will want to ask before making any decisions about surgery.

Those patients that wish to meet their surgeon before surgery are free to do so - we believe that having trust in and confidence in your surgeon is very important.

Surgery is unique to every patient and a detailed discussion and assessment between you and your consultant surgeon is essential in enabling you to make a decision based on correct personal information and advice.
A consultant surgeon will tend to you from your care from your first consultation to your follow-up appointment and you don't have to be a AVELANE member to use our services.

© 2015-2022 avelaneclinic All rights reserved, Developed by MrCode.net, Powered by EPOS